Consulting Services
Need help with your SCCM infrastructure ? Consult our
fixed price consulting plans
to see our rates or contact us for a custom quote.
Last Update
SCCM Client Version – 2021/05/03

This blog post compiles a list of SCCM client versions, build numbers and cumulative updates since the 2012 RTM release. SCCM Upgrades are released 2 times a year. After an SCCM Upgrade, it's important to upgrade your SCCM Client version to the latest version.

SCCM updates are cumulative, meaning that the latest one includes the previous one. (Ex: You don't need to apply SCCM 2203 if you plan to install 2303).

We recommend that you upgrade all your clients when you are applying the latest SCCM version. We release a step-by-step guide on how to update your SCCM server each time a version comes out. Just use the link next to the client version in the table to be redirected to the upgrade post.
Legend
This is the info alert box for sharing…info.
CU : Cumulative Update
UR : Update Rollup
IR : Interoperability update
FW : First Wave
Baseline : Version that you can use to upgrade SCCM 2012 or install a new site. Always use the latest available baseline for these scenarios.
Why your SCCM Client version is important
Knowing which SCCM client version you are running in your environment lets you benefit from the SCCM (MECM) latest features. If you update your site to the latest build version but you are not updating your SCCM clients, you may not enable all features.
Use the search function to find your exact client version. If you don't know how to find your SCCM version, jump to the table and read our section about how to get your version.
How to get your SCCM Version Number
SCCM Client Version Report
Running a report to see your SCCM client version is the easiest method. You can see all available versions in a single report.
We have built an SCCM Client version report to give detailed information about your SCCM client version in your environment. Using this report, you'll be able to easily identify which client version is outdated.

From the SCCM Console
You can also get your site version number from the SCCM (MECM) console
Open the ConfigMgr console
Browse to Administration / Site Configuration / Sites
Right-click on the site and select Properties
You'll find the site version and build number

To see all client version from the console :
Open the SCCM console and navigate to Assets and Compliance / Devices
In the devices view, right-click on the header and select Client Version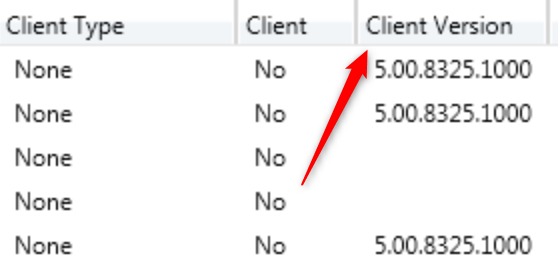 You can also use the Client Health Dashboard to list your client version :
Open the ConfigMgr console
Browse to Monitoring / Client Status / Client Health Dashboard
You'll see the Client Version Details chart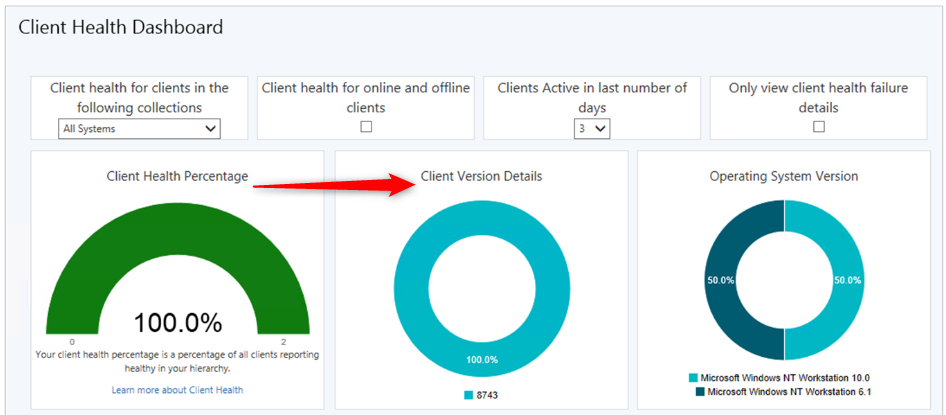 Create an SCCM Client Version collection
You can create a collection to list your client version in your console. Here's the WQL Query that you can use :
You just need to replace your Client version at the end of the query
select SMS_R_SYSTEM.ResourceID,SMS_R_SYSTEM.ResourceType,SMS_R_SYSTEM.Name,SMS_R_SYSTEM.SMSUniqueIdentifier,SMS_R_SYSTEM.ResourceDomainORWorkgroup,SMS_R_SYSTEM.Client from SMS_R_System where SMS_R_System.ClientVersion != 'SCCM CLIENT VERSION'
We also created a script that creates more than 148 Operational collections that include all the latest SCCM Client versions: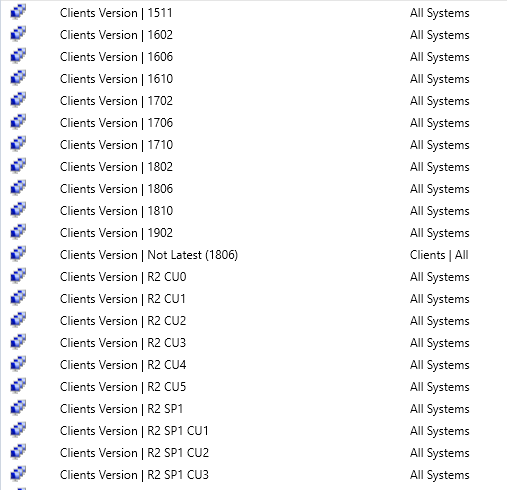 You can download the script on my Github repository.