Microsoft announced that the general availability of the new Microsoft Edge Chromium on January 15, 2020. SCCM and Intune are already ready for this launch as both products include a feature to deploy and manage the new browser. This blog post will describe how to deploy the new browser to your computer using both SCCM and Intune.
You can download and install Edge Chromium from the Microsoft website. It's available for Windows, macOS, iOS and Android. If you need to manage this in Enterprise, continue to read our post.
SCCM Intune Edge Chromium Requirements
The first step to deploy Edge Chromium using SCCM is to ensure that you have SCCM version 1910 or higher. Version 1910 brings a new feature to deploy Microsoft Edge, version 77 and later. Intune is already ready to deploy Edge Chromium but the feature is still in "Preview" mode.
Deploy Edge Chromium using SCCM
It's also possible to create an application using the downloadable MSI from the Microsoft Edge Insider web page but this blog post will not describe this option as we find that the built-in feature is doing a simpler job handling it.
In your SCCM Console
Navigate to Software Library / Microsoft Edge Management
Right-click Microsoft Edge Management and select Create Microsoft Edge Application
On the first pane, enter a Name and Path where you want the build to be downloaded. The path must be an empty directory. Click Next
Select an Update Channel and Version. You can select Dev, Beta and Stable. Click Next.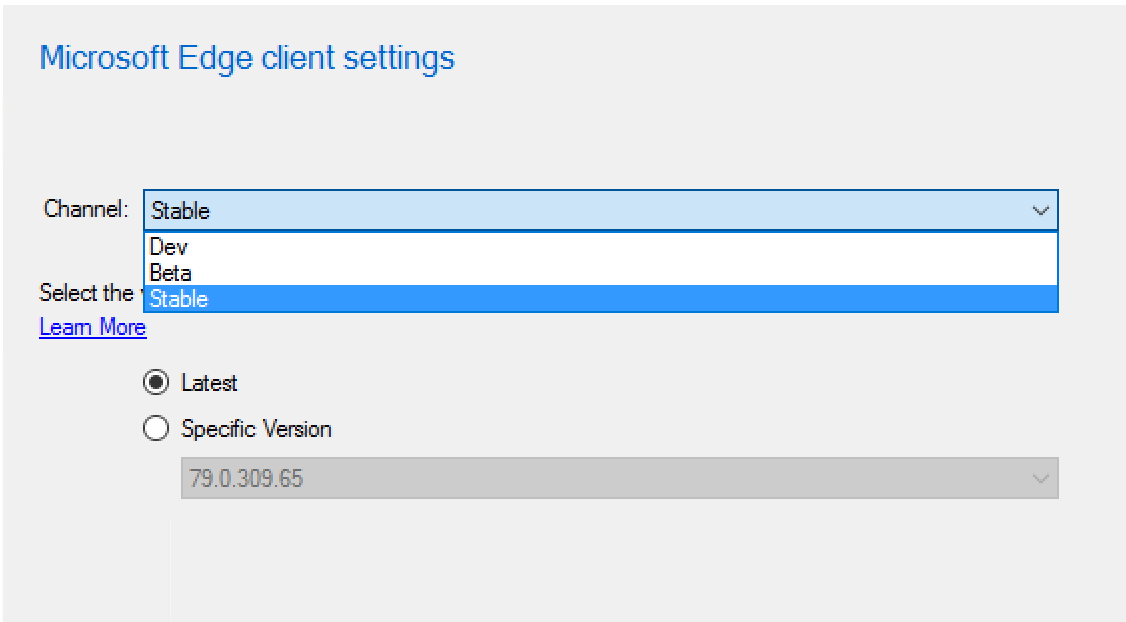 The next screen permits you to create your deployment or wait at a later time. For this blog post, we will create it now. Click Next
As for any other application deployment, select a Collection, Content Destination, Distribution Settings (Available or Required), Scheduling, User Experience and Alert
Complete the Wizard. It will take a couple of seconds to complete since SCCM is downloading the files in the background.
In the folder you specified in the first screen, you'll see the downloaded bits for both X86 and X64
If you're curious and wonder at that's inside the PS1 file, it's basically a script to install Edge and a registry value set for future updates.
You can now log on a computer that is a member of your deployment collection and initiate the Edge deployment from Software Center. For now, the "regular" version of Edge is retained on the computer.
In the future, it will also be possible to deploy Edge Updates using the SCCM console (As for Office 365) – Under Microsoft Edge Management / All Microsoft Edge updates. For now, you won't see updates on this node.
Deploy Edge Chromium using Intune
If you're using Intune to manage your devices, you can also find the same deployment mechanism in your Intune console. This feature is currently in Preview mode but in our test, it worked out great!
In the Intune Console, go to Manage / Client Apps
In the App type dropdown, Under Microsoft Edge, version 77 and later, select Windows 10
Click App Information and enter your desired information
Click App Settings and select the desired update Channel.
Click the Add button at the bottom to add the application. You'll see a confirmation on the top right.
You'll be in your Edge Chromium application screen. The only thing left is to assign the app to a group. Go in the Assignment tab and select your group
We hope that this post was useful. Now that Edge Chromium hits general availability there's no reason not to manage it through SCCM and Intune.
Founder of System Center Dudes. Based in Montreal, Canada, Senior Microsoft SCCM Consultant, 5 times Enterprise Mobility MVP. Working in the industry since 1999. His specialization is designing, deploying and configuring SCCM, mass deployment of Windows operating systems, Office 365 and Intunes deployments.