Download and own this SCCM Installation Guide in a single PDF file.


The PDF file is a 162 pages document that contains all informations to install and configure SCCM Current Branch. Use our products page or use the button below to download it .
In this part of SCCM 2012 and SCCM 1511 blog series, we will describe how to install a SCCM 2012 R2 or SCCM 1511 Management Point (MP).
Role Description
Every SCCM hierarchy must have a Management Point to enable client communication. The Management Point is the primary point of contact between Configuration Manager clients and the site server. Management Points can provide clients with installation prerequisites, configuration details, advertisements and software distribution package source file locations. Additionally, Management Points receive inventory data, software metering information and state messages from clients.
Multiple Management Points are used for load-balancing traffic and for clients to continue receiving their policy after Management Point failure. Read about SCCM High-Availability options in this Technet article.
Prior to SCCM 2012 R2 SP1, it was not possible to assign client directly to a specific Management Point. It's now possible using the new Preferred Management Point feature. If you don't have SCCM 2012 R2 SP1 yet, be advise that adding a new Management Point in a remote office won't automatically make your clients communicate to this particular MP. Read about how clients choose their Management Point in this Technet article.
Site System Role Placement in Hierarchy
The Management Point is a site-wide option. It's supported to install this role on a stand-alone Primary site, child Primary site or Seconday site. It's not supported to install a Management Point on a Central Administration site.
Each primary site can support up to 10 Management Points.
By default, when you install a Secondary site, a Management Point is installed on the Secondary site server. Secondary sites do not support more than one Management Point and this Management Point cannot support mobile devices that are enrolled by Configuration Manager.
See the full Supported Configuration in the following Technet article.
Prerequisites
On Windows 2012, the following features must be installed before the Management Point Installation:
Features:
.NET Framework 4.5
BITS Server Extensions  or Background Intelligent Transfer Services (BITS)
IIS Configuration:
Application Development
Security
IIS 6 Management Compatibility

IIS 6 Metabase Compatibility
IIS 6 WMI Compatibility
SCCM 2012 R2 Management Point Installation
Open the SCCM console
Navigate to Administration / Site Configuration / Servers and Site System Roles
Right click your Site System and click Add Site System Roles
On the General tab, click Next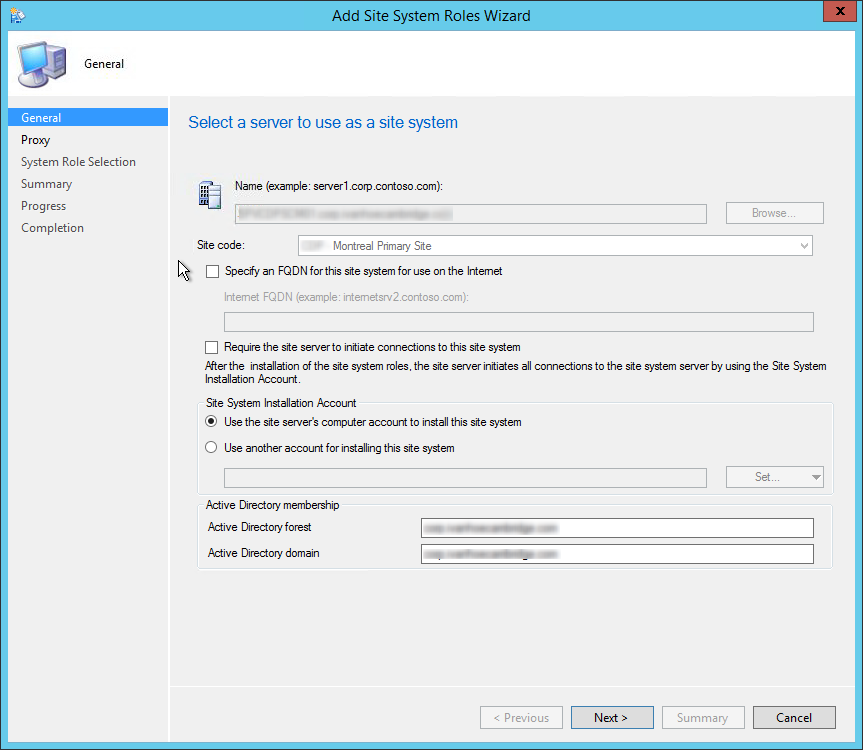 On the Proxy tab, click Next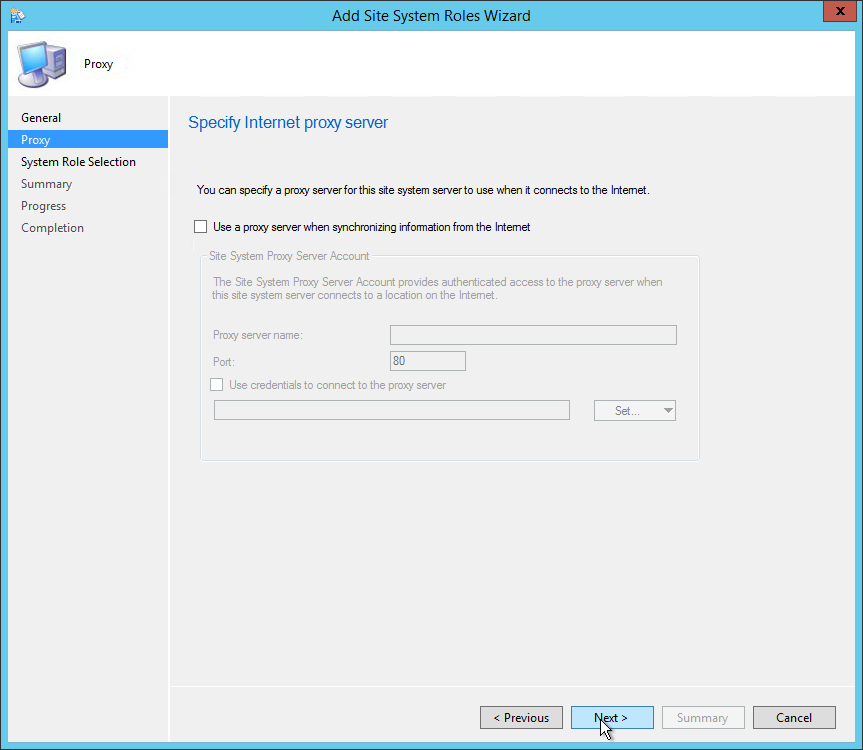 On the Site System Role tab, select Management Point, click Next
On the Management Point tab
Select the desired client connections methods. HTTPS required to have a valid PKI certificate for client authentication
Click Next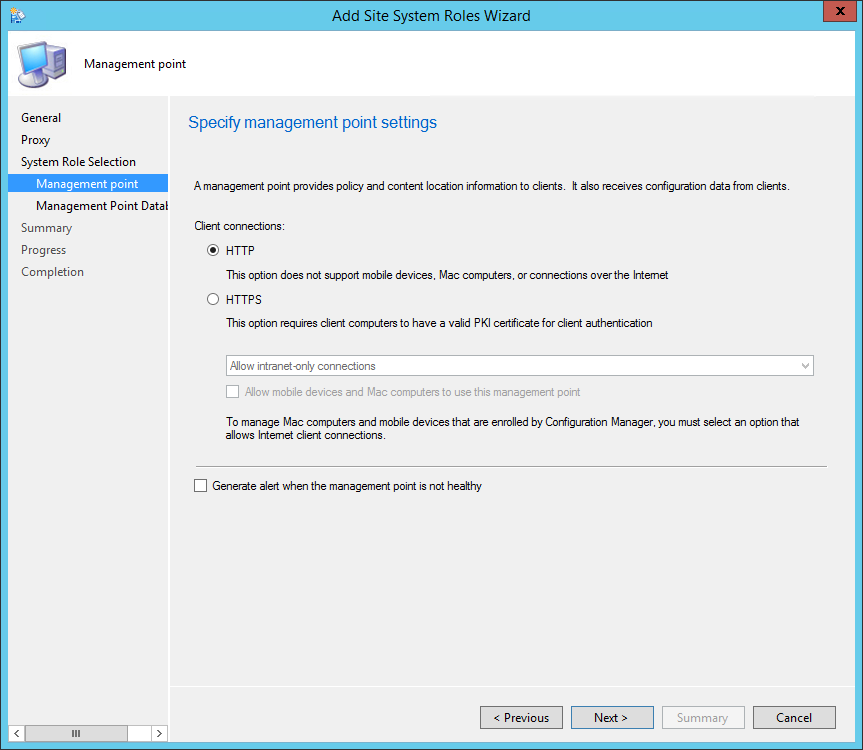 On the Management Point Database tab, specify if you want to use the site database or a database replica. Read about database replica here
Specify if you want to use the computer account of the Management Point to connect to the database or a specified account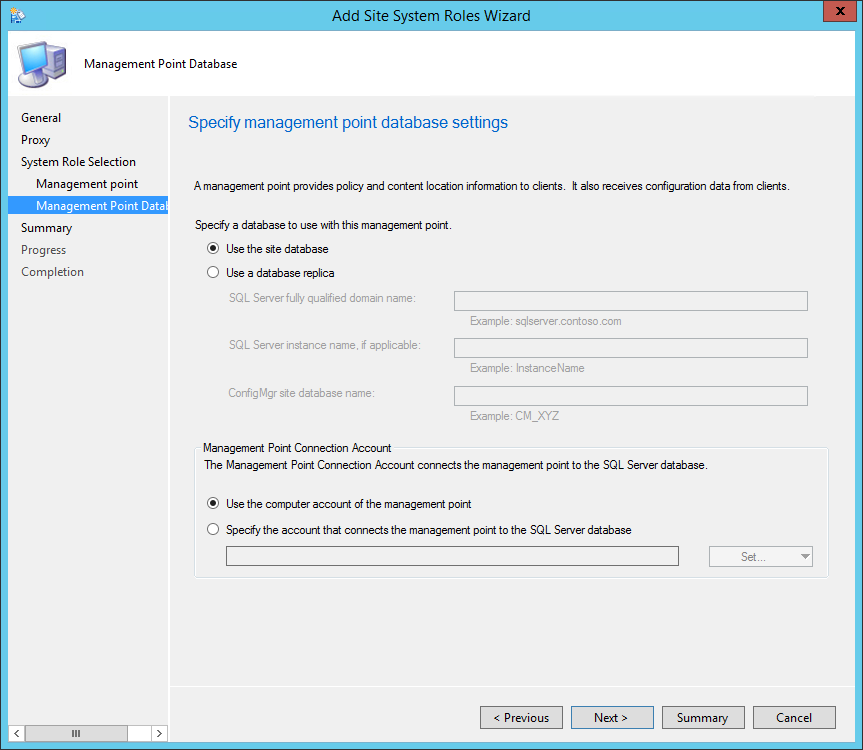 On the Summary tab, review your settings, click Next and complete the wizard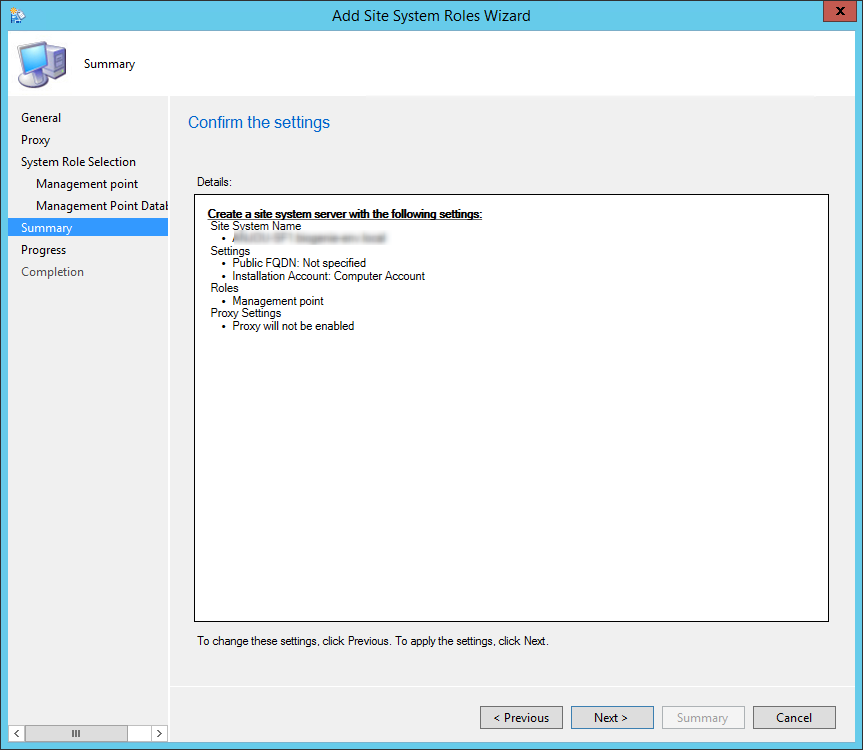 Verification and Logs files
You can verify the installation in the following logs:
ConfigMgrInstallationPath\Logs\mpMSI.log – Records details of about the management point installation
ConfigMgrInstallationPath\Logs\MPSetup.log.log – Records the management point installation wrapper process