Download and own this SCCM Installation Guide in a single PDF file.


The PDF file is a 162 pages document that contains all informations to install and configure SCCM Current Branch. Use our products page or use the button below to download it .
In the first part of SCCM 2012 and SCCM 1511 blog series, we will cover SCCM installation prerequisites most specifically hardware requirements, design recommendations and server prerequisites.
Hardware Requirements
The hardware requirements for a Primary Site server largely depends on the features that are enabled, and how each of the components is utilized. When the number of clients grows and changes, the server hardware requirements change accordingly. For the initial deployment, hardware requirements can be estimated for each server by determining:
The overall need for each component (Will you do Operating System Deployment ? How many daily software deployments ? Is Inventory and reporting is important for your organisation ? Will you manage Internet Client ?)
The number of clients planned to be installed
The load on each of installed SCCM components
In general, medium environments (couple thousand clients) should consider the following recommendations when planning hardware:
SCCM and SQL Server communicate constantly. We recommend that the main database and SQL Server be installed on the Primary site server. This is fully debatable and we understand that some organisation try to standardize their SQL distribution. Performance are simply better using a local installation when configured properly
Neither the SCCM site nor the SQL database should share their disks with other applications
Configure the SQL Server databases and logs to run on a different disk than the disk where the SCCM database is located.
Another issue to consider when determining hardware requirements for a site servers is the total amount of data that will be stored in the database. To estimate the required database size for a single site, an approximate figure of 5Mb to 10Mb per client is typically used.
In our setup, we will install a single Primary Site that has the role of  Management Point, Reporting Point, Distribution Point, PXE Service Point, State Migration Point, Fallback Status Point and Software Update Point. SQL Reporting Services will be used to provide consolidated reporting for the hierarchy. This role will also be installed on the SCCM Server. Running reports can have an impact on server CPU and memory utilization, particularly if large poorly structured queries are executed as part of the report generation.
Consider placing client facing role (Distribution Point, Reporting Point) on separate server in order to reduce load on your Primary server.
Here's our recommended reading about hardware requirements:
SCCM 1511
SCCM 2012
We strongly recommend that you understand SQL Server before installing SCCM. Talk and have a good relation with your DBA if you have one in your organisation.
Here's our recommended reading  about SQL :
OS
For this post,  our servers runs Windows 2012 R2 with latest security patches
Disks
Disks IOs is the most important aspect of SCCM performance. We recommend to configure the disks following SQL Best practice. Split the load on different drive. When formatting SQL drives, the cluster size (block size) in NTFS must be 64KB instead of the default 4K. See the previous recommended reading to achieve this.
Letter
Content
Size
C:\
Windows
100GB
D:\
SCCM
200GB
E:\
SQL Database (64K)
40GB
F:\
SQL TempDB (64K)
40GB
G:\
SQL Transaction Logs (64K)
SQL TempDB Logs
40GB
Primary Site server prerequisites
Once your hardware is carefully planned, we can now prepare our environment and server before SCCM Installation.
Active directory schema extension
You need to extend the Active Directory Schema only if you didn't have a previous installation of SCCM in your domain. If you have SCCM 2007 already installed and planing a migration, skip this step.
Logon to a server with an account that is a member of Schema Admins security group
From SCCM ISO run .\SMSSETUP\BIN\X64\extadsch.exe

Check schema extension result, open Extadsch.log located in the root of the system drive
Create the System Management Container
Configuration Manager does not automatically create the System Management container in Active Directory Domain Services when the schema is extended. The container must be created one time for each domain that includes a Configuration Manager primary site server or secondary site server that publishes site information to Active Directory Domain Services
Start ADSIEdit, go to the System container and create a new Object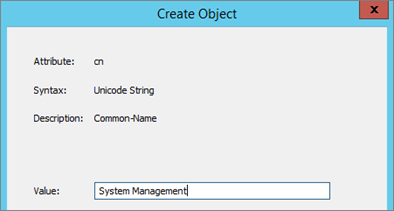 Set security permission
Open properties of the container System Management created previously

In the Security tab, add the site server computer account and Grant the Full Control permissions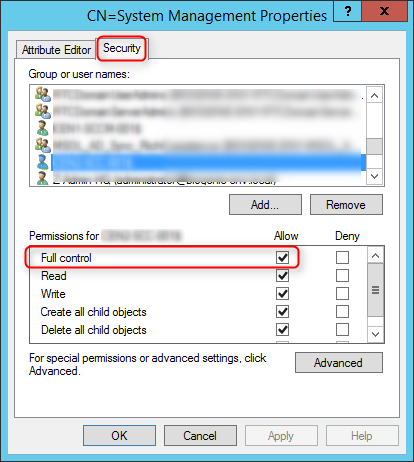 Click Advanced, select the site server's computer account, and then click Edit
In the Applies to list, select This object and all descendant objects
Click OK and close the ADSIEdit console
SCCM Accounts
Create the necessary accounts and group created before installation. You can use different name but i'll refer to these names throughout the guide.
SQL server services account – SCCM-SQLService
SCCM Network Access Account – SCCM-NAA
Domain user account for use SCCM client push install  – SCCM-ClientPush
Domain user account for use with reporting services User – SCCM-SQLReporting
Domain account used to join machine to the domain during OSD – SCCM-DomainJoin
Domain group containing all SCCM Admins Group – SCCM-Admins
Domain group containing all SCCM servers in the hierarchy Group – SCCM-SiteServers
Network Configuration
Make sure that the server has a fix IP and that internet connection is up
Firewall Configuration
Make sure the firewall service is ON
Run this script in an elevated command prompt order to open the necessary ports needed for SCCM.
** If you are using custom ports, change the values before running the script. **
No_sms_on_drive.sms
Place a file name no_sms_on_drive.sms on the root drive of each drive you don't want SCCM to put content on.
Windows Server Features
On the Primary site server, the following components must be installed before SCCM installation. We'll install all these components using a PowerShell script.
.Net Framework 3.51 SP1
.Net Framework 4
IIS
Remote Differential Compression
BITS Server Extension
WSUS 3.0 SP2
Report Viewer
ADK for Windows 8.1
Roles and features
On the Site Sever computer, open a PowerShell command prompt as an administrator and type the following commands. This will install the required features without having to use the Windows 2012 GUI.
Ensure that all component are showing as SUCCESS as an EXIT Code. It's normal to have Windows Update warnings at this point.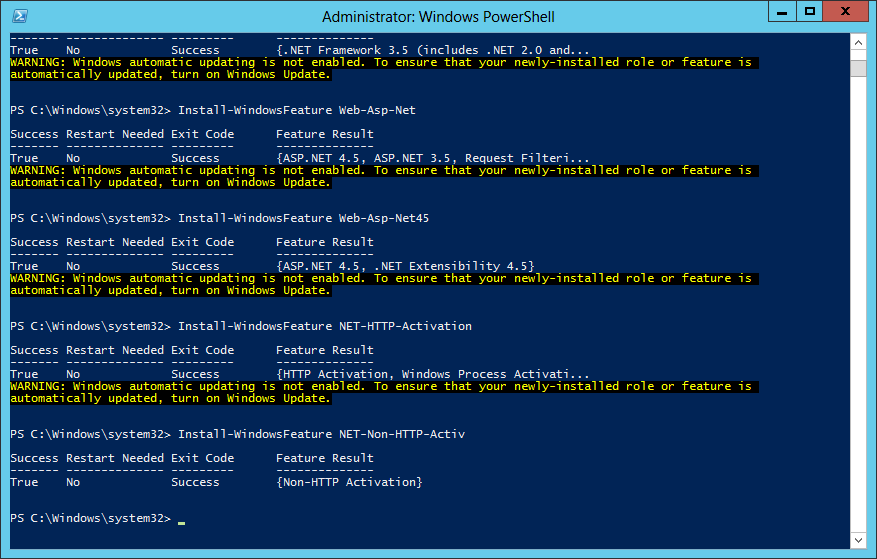 Report Viewer
Download and install – here
ADK for Windows 8.1
Download and install – here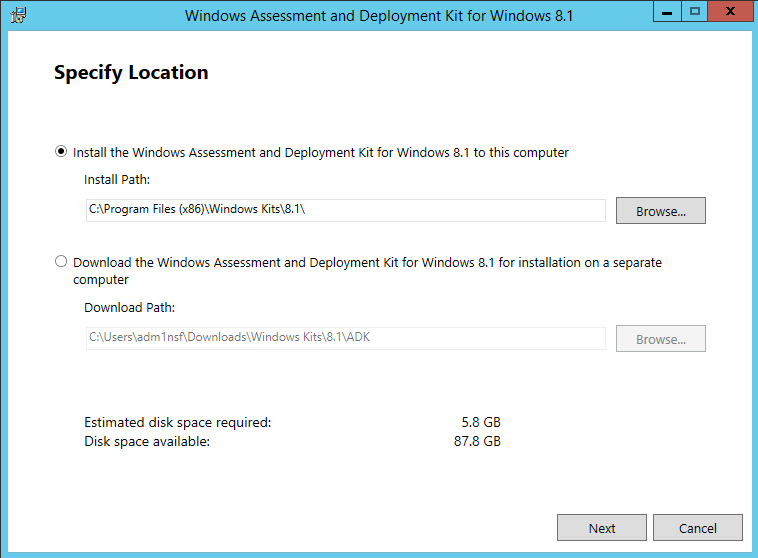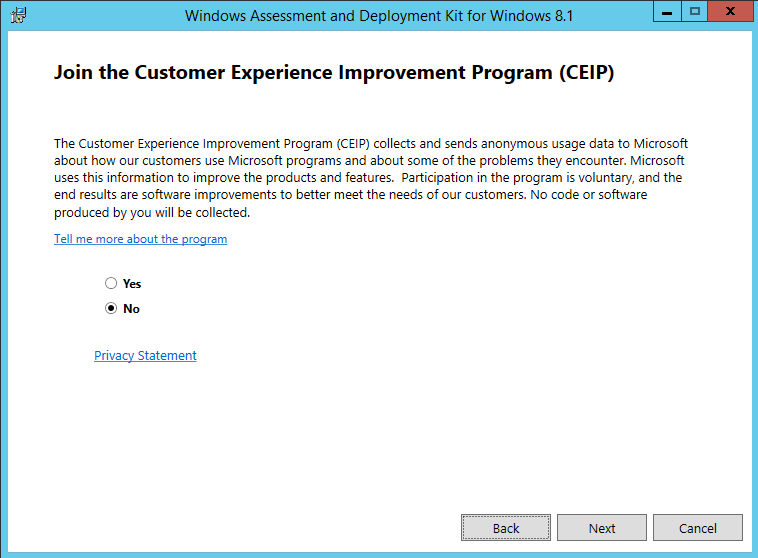 Accept the License Agreement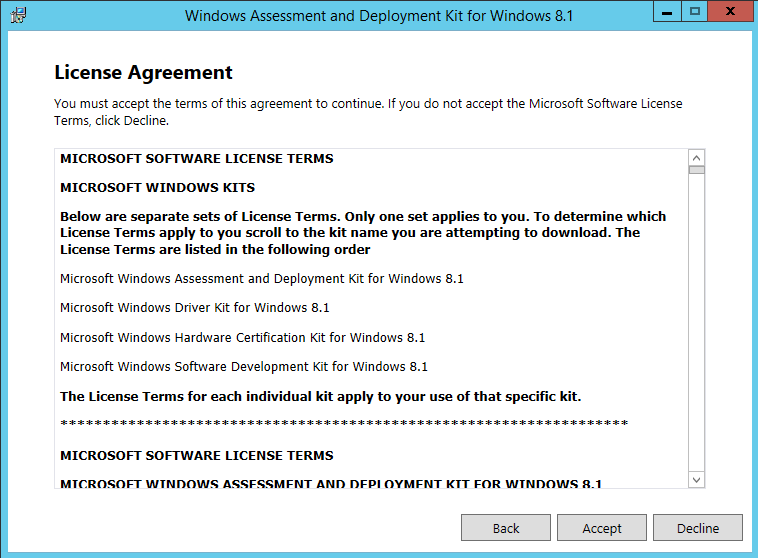 Install the following components

Deployment Tools
Windows Pre-installation Environment
User state Migration tool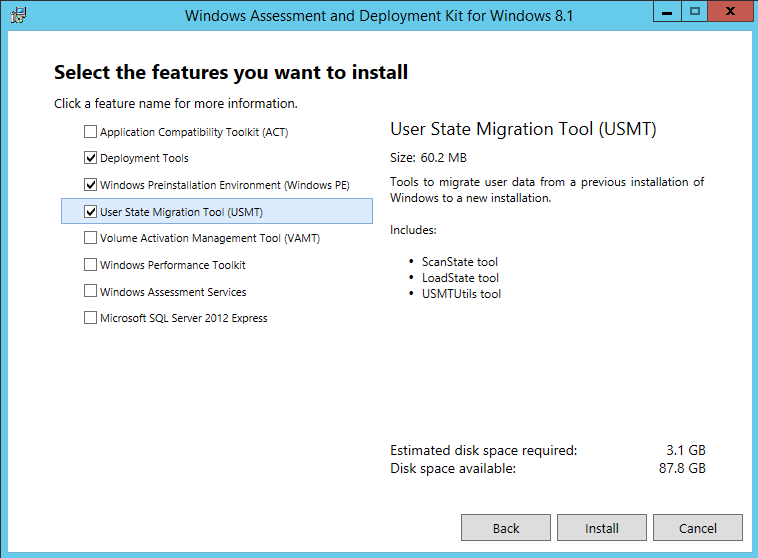 Active Directory
Add the computer account of all your site servers in the SCCM-SiteServers AD group
Ensure that the group has Full Control on the SYSTEM Container in Active Directory
Local Admin accounts
Add both SCCM computer account and the SCCM Admin account to the local administrator group on the site server.
SCCM-Admins
SCCM-SiteServers
SCCM 2007 Client
If applicable, uninstall SCCM 2007 client and FEP if present on the server before the installation. If the client is present, the 2012 SCCM Management Point installation will fail.
Windows Updates
Run windows update and patch your server to the highest level
Your server is now ready for the SQL installation.
Overview | SCCM 2012 R2 Step-by-Step Installation Guide
Next Part | How to install SQL 2012 before installing SCCM 2012 R2
  sccm 2012 r2 installation prerequisites